William Dick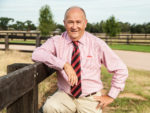 Real Estate Representative
William has a reputation as one of the industry's most knowledgeable agents, as a fully licensed real estate agent William Dick is the smart choice for anyone seeking Residential, Rural, Industrial or  commercial sales and Leasing.
A respected leader in his field, William has worked on behalf of many national and multi-national organisations in a variety of real estate transactions.
In a career spanning over 20 years, William has acquired a wealth of knowledge in the Residential, Rural and Industrial - commercial real estate market delivering tailored solutions and an insight for property investment and development across the full real estate spectrum.
Whether you are seeking to sell a residential property or lease or sell an Industrial - commercial property, investor, developer or owner-occupier William's skills and knowledge in the property industry will add value, minimise risk and deliver an optimum result.
Beyond real estate William is community focused, being involved with the local Rugby club for a number of years, coaching and refereeing junior teams along with a stint as Club President.
Please don't hesitate to call to discuss your sales and leasing needs and discover how William's premium advice and services can benefit your portfolio as well as your business.
02 6850 8800
02 6850 8855
0417 007 065