Luke Johnston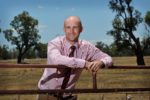 Real Estate Sales Specialist
Following several years running a successful electrical business, Luke joined the Elders team in December 2016 to follow his keen interest in real estate.
Born and raised in Gunnedah, Luke is married to local accountant Kate and they have a young son, Otis. Luke enjoys living in Gunnedah and is an active member of the community.
Luke has a vast knowledge of and practical experience in the building industry. These combined, have assisted him in several renovation projects and helping with the design and build of their current family home.
Approachable and reliable, Luke understands the importance of keeping his clients involved throughout the buying and selling experience.
Luke provides a fresh approach for real estate in our region.
02 6748 3000
02 6748 3055
0448 424 058